Day 2 :
Nano Electronics | Nano Biotechnology | Nanotechnology in Water treatment | Advanced Nanomaterials | Nanotech for Energy and Environment | Nano Materials Synthesis and Characterisation | Nanobiomaterials
Chair
Masahiro Hiramoto
Institute for Molecular Science, Japan
Co-Chair
Daniel Bellet
University of Grenoble Alpes, France
Session Introduction
University of Gdansk, Poland
Time : 13:45-14:05
Biography:
Ewelina Grabowska has her expertise in "Heterogeneous photocatalysis, preparations of nanoparticles and nanomaterials, nanotechnology, functional materials, photocatalytic oxidation in presence of titanium dioxide, water and wastewater treatment, remediation technology and chemical technology evaluation".
Abstract:
In recent years, photocatalytic processes have been intensively investigated for destruction of pollutants, hydrogen evolution, disinfection of water, air and surfaces, for the construction of self-cleaning materials (tiles, glass, fibers, etc.). Titanium dioxide (TiO2) is the most popular material used in heterogeneous photocatalysis due to its excellent properties, such as high stability, chemical inertness, non-toxicity and low cost. It is well known that morphology and microstructure of TiO2 significantly influence the photocatalytic activity. These characteristics as well as other physical and structural properties of photocatalysts, i.e., specific surface area or density of crystalline defects, could be controlled by preparation route. In this regard, TiO2 particles can be obtained by sol-gel, hydrothermal, sonochemical methods, chemical vapor deposition and alternatively, by ionothermal synthesis using ionic liquids (ILs). In the TiO2 particles synthesis, ILs may play a role of a solvent, soft template, reagent, and agent promoting reduction of the precursor or particles stabilizer during synthesis of inorganic materials. Ionic liquids (ILs) are widely applied to prepare metal nanoparticles and 3D semiconductor microparticles. Generally, they serve as a structuring agent or reaction medium (solvent); however, it was also demonstrated that ILs can play a role of a co-solvent, metal precursor, reducing as well as surface modifying agent. Based on the literature data and preliminary own investigation, it could be concluded that application of ionic liquids in semiconductors synthesis provide a modification of the morphology and enhanced the photocatalytic activity of obtained structures. In this regard, ionic liquids may play a role of a solvent, soft template, reagent, and agent promoting reduction of the precursor or particles stabilizer during preparation of inorganic material. In addition, presence of the IL on the TiO2 surface probably results in absorption of the photons and excitation of the electrons from HOMO to LUMO orbitals. Mechanism of the photo excitation could be therefore related with transfer of the electron from the LUMO level of IL to the TiO2 semiconductor conduction band. In this work, the effect of selected ILs structure and amount, as well as conditions of hydrothermal synthesis on the morphology and photoactivity of TiO2 is presented. The preparation of TiO2 microparticles with spherical structure was successfully achieved by solvothermal method, using tetra-tert-butyl orthotitanate (TBOT) as the precursor. Various molar ratios of all ILs to TBOT (IL:TBOT) were chosen. For comparison, reference TiO2 was prepared using the same method without IL addition. Scanning electron microscopy (SEM), transmission electron microscopy (TEM), X-ray diffraction (XRD), Brunauer-Emmett-Teller surface area (BET), NCHS analysis, and FTIR spectroscopy were used to characterize the surface properties of the samples. The photocatalytic activity of IL-assisted TiO2 photocatalysts was estimated by measuring the rate of phenol decomposition in aqueous solution as well as formation of hydroxyl radicals based on detection of fluorescent product of coumarin hydroxylation. Phenol was selected as a model contaminant because it is a non-volatile and common organic pollutant found in various types of industrial wastewater.
Technical University of Berlin, Germany
Time : 14:05-14:25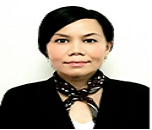 Biography:
Riny Yolandha Parapat has her expertise in "Synthesis of nano-crystal via microemulsions technique". Her great passion is to create and develop nanomaterial especially in the field of Catalysis. She is also concerned about the environment; her research is now heading to the field of Green Synthesis and Biofuel Production. Her advance knowledge and experience in microemulsions making her able to synthesize and design the super active nano-catalysts in a greener way. She has discovered a new method to synthesize highly active supported nano-catalysts, so-called thermo-destabilization of microemulsions. She is a Lecturer in the course of Kinetic and Catalysis, Experimental Design, Process Control, and Plant Design.
Abstract:
In improving the catalytic activity of the noble metals, the surface morphology has become an area of investigation over the past decades. The shape control of metal particles during synthesis, that is to direct the crystallographic planes, coordination of surface atoms and bounding facets of the nanocrystals, is important. These parameters determine the number of atoms located at the edges or corners and accordingly control the surface chemistry which holds the key for improving their catalytic performance. The shape that possesses high-index planes (low-coordinated atoms) is preferable because generally it has high surface energies and thus exhibits high activity. To produce nanoparticles which have high-index planes, the preferred growth direction during synthesis is anisotropic growth. Our first attempt is to produce platinum (Pt) nanocrystals with a small size (2.5 nm) of an isotropic structure i.e., truncated octahedral and deposit them well on support materials. We followed the strategy to keep the small size but change the shape to anisotropic structure of Pt nanocrystals which produces more active sites by means of a weaker reducing agent. We found that the catalysts of anisotropic structure are more active than those of the isotropic ones and even show potential to be applied in a challenging reaction such as hydrogenation of levulinic acid. We continue our effort not only in improving the performance of the nano-catalyst, but also making it in a greener way by using natural reductant such as green tea and grape seed. We found that the produced Pt nano-catalysts are also anisotropic and active at a very mild condition in hydrogenation of levulinic acid which usually is conducted at high pressure and temperature.
Instituto de Ciencia de Materiales de Sevilla (CSIC-US), Spain
Time : 14:25-14:45
Biography:
Ana Isabel Becerro completed her Degree in Pharmacy at University of Seville in 1992, Degree in Optics at University of Barcelona in 1993 and Doctor in Chemistry in 1997. She completed her Post-doctoral degree at Forschung Institut für Geochemie und Geophysik (Bayreuth, Germany) from 1998 to 2000, with a Marie Curie Research Training Network contract. In 2001, she came back to the Material Science Institute of Seville [Spanish Research Council (CSIC) - University of Seville (US)]. She has published more than 75 scientific papers in SCI journals and presented more than 50 contributions to scientific meetings. She has supervised 4 PhD students and a number of master degree students.
Abstract:
In the past few years, lanthanide (Ln)-doped rare earth (RE)-based nanoparticles (NPs) have emerged as an alternative to current imaging and sensing probes based on organic dyes or quantum dots due to the advantageous optical characteristics of Ln3+ ions. Among Ln, Nd3+ is particularly interesting because it is excited and emits within the first and second biological windows, in which the radiation is weakly attenuated by tissues. Thus, improving the sensitivity of the assays and lowering tissue damage. Among the Ln3+-doped RE-based NPs, fluoride-based matrices are preferred because they show a high luminescent efficiency due to their low phonon energies. Particularly, Ba1-xLnxF2+x nanoparticles have shown to be excellent up conversion bio probes as well as optimal contrast agents for X-ray computed tomography. The few reported methods for the synthesis of uniform Ba1-xLnxF2+x-based NPs required the use of high T (~300 ºC) and oleic acid as capping agent, which led to hydrophobic particles and needed therefore a second step to make them water dispersible. The purpose of this study is to find a synthetic route of Nd3+-doped Ba, Lu fluoride NPs using a one-step process in the absence of any capping agents to render hydrophilic uniform nanoparticles at much lower temperatures than the methods cited above. Findings: Uniform, 50 nm diameter, hydrophilic Nd3+-doped Ba0.3Lu0.7F2.7 NPs were synthesized using a simple precipitation method consisting in the aging of an ethylene glycol solution containing Lu acetate, Ba(NO3)3 and a fluoride-based ionic liquid. The composition and crystal structure of the un-doped NPs were analyzed with ICP and XRD, which revealed a BaF2 cubic crystal structure that is able to incorporate 70 mol% of Lu3+ ions. This finding contrasts with the reported phase diagram of the system, where the maximum solubility is around 30 mol%. Nd3+ ions up to, at least 2.5 mol%, entered the Ba0.3Lu0.7F2.7 cubic structure without altering the morphology of the un-doped NPs. The Nd-doped NPs exhibited NIR luminescence when excited at 810 nm and absorbed X-ray photons, thus demonstrating to be useful as contrast agents in both bio-imaging and X-ray computed tomography.
University of the Philippines Diliman, Philippines
Time : 14:45-15:05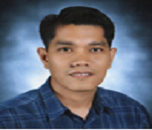 Biography:
Crismar Patacsil completed his MS in Physics at University of Philippines Diliman, Quezon in 2004 and is currently a PhD student at Ateneo de Manila University under Dr. Rapahel Guerrero as his dissertation adviser. Currently, he is an Assistant Professor in Department of Physical Sciences, College of Science at University of Philippines Baguio, Baguio City.
Abstract:
We present results of electrowetting experiments employing droplets formed from aqueous suspensions of gold nanoparticles. A planar electrowetting system, consisting of a platinum wire electrode and a bottom copper electrode with an insulating silicone (polydimethylsiloxane) layer, is used to observe changes in droplet contact angle when an external electric field is applied. The equilibrium contact angle at 0 V decreases with increasing nanoparticle concentration, dropping from 100.40 for pure deionized water to 94.70 for a 0.5 μM nanofluid. Increasing the nanoparticle content also lowers the required voltage for effective actuation. With actuation at 15 V, contact angle decreases by 9% and 35% for droplets formed from pure water and a 0.5 μM nanoparticle suspension, respectively. Contact angle saturation is observed with nanofluid droplets, with the threshold voltage decreasing as nanoparticle concentration rises. Maximum droplet actuation before contact angle saturation is achieved at only 10 V for a concentration of 0.5 μM. A proposed mechanism for the enhanced electrowetting response of a nanofluid droplet involves a reduction in surface tension of the droplet as nanoparticles accumulate at the liquidvapor interface.
Memorial University, Canada
Time : 15:05-15:25
Biography:
Laleh Alisaraie is an Assistant Professor at School of Pharmacy, Memorial University of Newfoundland, Canada.
Abstract:
Carbon nanotubes (CNTs) can play key roles in small molecule transportations. They can cross through the cell membrane while maintaining interactions with their cargos. There are a wide range of molecules that can be carried by these nanoparticles which include both small chemicals and proteins. In this talk, I will discuss our recent findings regarding some of the possible modifications of CNTs structures for their application as efficient nano-carriers for certain biomolecular cargos.
University of Zagreb, Croatia
Time : 15:25-15:45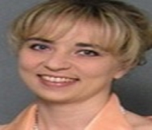 Biography:
Iva Rezić is the Head of Department of Applied Chemistry at University of Zagreb where she leads the group for synthesis and characterization of metallic nanoparticles. She has two PhDs and expertise in Material Science and Characterization, Nanotechnology, Chemical Trace Elements Analysis and Statistical Modeling of Complex Mixtures. She is an Editor-in-Chief of TEDI journal, Editor of four and Reviewer of 33 journals. She actively participates as a member of various associations, commissions and committees.
Abstract:
Statement of the Problem: Limited natural resources and the exponential growth of the population lead to dramatic changes in production, consumption, transportation and storage of food. The application of nanoparticles in packaging affects its antibacterial, mechanical, thermal and barrier properties, but also increases the safety of food and shelf life of the product. This work therefore, presents the methodology of synthesis, characterization and application of metallic nanoparticles as antimicrobial components for application on biodegradable polymers foreseen as the future packaging materials.
Methodology & Theoretical Orientation: We apply enzymes to synthesize metallic nanoparticles, reveal the kinetics and mechanism of reactions, and characterize nanoparticles by classical (SEMEDX, FTIR, ICPOES, GFAAS) and beyond-stateof- the-art (GEMMA, PDMA, MALDI-TOF-MS/MS) instrumental methods. After synthesis and characterization, the antimicrobial activity of nanoparticles was tested against model microorganisms (Staphylococcus aureus, Escherichia coli, Candida albicans) using statistical method design of experiment. Antimicrobial mixtures of nanoparticles were further applied with dip-coating on polymers by sol-gel process using 3-glycidyloxypropyltrimethoxysilane (GLYMO) precursor.
Findings: We produced metallic nanoparticles, optimized their antimicrobial activity and characterized polymers with antimicrobial layers. Enzymatic synthesis of nanoparticles at moderate temperatures ensured mild production conditions and enabled lower energy consumption. In our future work, we plan to produce a prototype of antibacterial biodegradable packaging using additive technology (3D-printing).
Conclusion & Significance: This multidisciplinary research work is significant for different scientific, industrial and technological applications: Enzymatic synthesis of nanoparticles is economically and ecologically favorable approach; usage of biodegradable polymers with metallic nanoparticles is the priority of food and packaging industry; optimization of highest antimicrobial activity of NPs mixture using design of experiment offers an innovation in formulation and; prototyping by 3D printing enables wide variety of additional applications. Therefore, we expect a significant outcome of this project and strengthening further collaboration with our industrial and academic partners.
Politecnico di Torino, Italy
Time : 15:45-16:05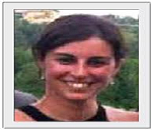 Biography:
Francesca Frascella completed her degree in Advanced Chemical Methodologies at University of Torino in 2005 and PhD in Materials Science and Technology at Politecnico di Torino in 2009. During her PhD, she spent four months at Center for Photonics and Photonic Materials, Department of Physics of University of Bath (UK). Since 2009, she is a Post-doc Researcher at Politecnico di Torino. Her past activities concerned the preparation and surface chemical modification of porous silicon-based materials for applications in sensing. Furthermore, she was devoted to the chemical modification of several materials surface, both inorganic and polymeric, especially by means of plasma-assisted techniques. Currently, her research activity is focused on "New azo-polymer materials for reversible patterning of substrates hosting living cell cultures". She is author of more than 25 peer-reviewed papers in international journals.
Abstract:
In recent years, micro and nano-structured polymeric films have attracted significant interest because of their promising potential application in many areas; including micro-fluidics, smart surfaces, photonics and tissue engineering. Nowadays, a plethora of processing technologies are available for fabricating complex polymeric architectures which are mostly static in nature, i.e., they cannot be morphologically modified once fabricated. Light-responsive materials such as azobenzene polymeric compounds (generally referred to as azopolymers) can overcome such a limitation opening the opportunity to active manipulate in terms of morphology, physical and mechanical properties a pre-patterned architectures, which are intrinsically static once fabricated. In azopolymeric films, a directional mass-migration effect can be triggered depending on the radiation wavelength, intensity, polarization state and topological charge, e.g. in vortex beams. Despite the underlying mechanism is still unclear to some extent, mass-migration in azopolymers has been widely exploited in the past for fabricating large-area periodic microstructures also known as Surface Relief Gratings (SRG) by exploiting intensity and/or polarization interference. In such a situation, lithographed azopolymeric patterns that could be subsequently modified by irradiation in controlled conditions are particularly attractive. For instance, irradiation with a linearly polarized light can elongate circular micro-pillars resulting in an ellipsoidal shape, wherein the elongation is along the polarization direction of the illumination beam. The light-induced contraction and expansion reshaping strategy of a polymeric structure shows exciting potential for a number of applications including microfluidics, lithography and tissue engineering. Tuning cells behavior in response to material manipulation cues
is a promising goal in biology.
Eskisehir Osmangazi University, Turkey
Time : 16:20-16:40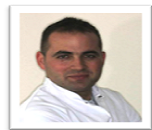 Biography:
Emre Seker completed his PhD at Ankara University and Near East University respectively. He is a Lecturer and Clinical Specialist at Eskisehir Osmangazi University, Department of Prosthodontics. He has published more than 30 papers and presentations and continues to study on "Surface treatment techniques of dental materials, CADCAM implant dentistry and plasma technology".
Abstract:
Since Co-Cr alloy is the most widely used base material for constructing dental prosthesis, many different efforts have been provided to enhance their surface energy and wettability with various surface modification procedures. Adhesion capability and surface activation of restorative materials remain as a goal for reliable clinical performance of dental restorations. Durable and strong adhesive bonding between the frameworks or between different materials in the structure of prosthesis is necessary to withstand the varied challenges in the oral environment. The acceptable bond strength depends on the wettability between the adhered surfaces and adhesive, which is necessary to ensure adhesion. Wetting is the first condition for providing adhesion. Titanium nitride (TiN) is a member of the refractory transition metal nitrides family which exhibits properties characteristic of both covalent and metallic compounds. TiN has many advantages such as including intrinsic biocompatibility, sufficient corrosion resistance, reduction of bacteria, and its suitability for use in patients who have a metal allergy to vanadium, nickel and cobalt. TiN is also a suitable material for the hard coating of various dental materials and dental surgical instruments in order to improve their surface properties. In particular, the TiN coating that provides a diffusion barrier and biocompatible surface has been applied using a metal sputtering technique in order to fabricate biocompatible prostheses. Seven Co-Cr discs were machined and smoothed with silicon polishing discs. The RF sputtering system was used for the depositions of TiN. An RF power supply of 13.56 MHz was used. Mechanical polishing was performed to reduce the surface roughness. The samples were cleaned in 96% ethanol and distilled water. The dental samples were coated with a thickness of 100 nm TiN. The surface roughness was evaluated in a control group and in groups with different plasma-jet exposure application times (30-60-120 seconds). Kinpen 09 plasma jet was used in this study. The distance between nozzle and sample surface was approximately 5 mm. Argon gas was used as carrier gas at a flow of 5l/min at 2.5 bar pressure. The average surface roughness (Ra) and contact angle (CA) measurements were recorded via an atomic force microscope (AFM) and tensiometer, respectively. According to the results with an increase in the application time, an apparent increment was observed for Ra and a remarkable reduction in CA was observed in all groups. It is concluded that the argon plasma-jet technology could enhance the roughening and wetting performance of Co-Cr dental material.
Eskisehir Osmangazi University, Turkey
Time : 16:40-17:00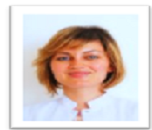 Biography:
Basak Kusakci Seker has completed her PhD at Hacettepe University and Near East University respectively. She is a Lecturer and Clinical Specialist at Eskisehir Osmangazi University, Department of Periodontology. She has published more than 20 papers and presentations and continues to study on "Dental implant surgery, dental laser applications, plasma disinfection and wound healing and bone regeneration techniques".
Abstract:
The collagen membrane is used in guided tissue regeneration which include the regeneration of lost tissues that surround the teeth or implants by forming new bone, new cementum, and (around teeth) a new periodontal ligament. Collagen membranes should be biodegradable, biocompatible, have high porosity in the nano-size range for cell attachment and have adequate mechanical strength. The aim of this pilot study was to evaluate the effect of non-thermal atmospheric pressure plasma (NTAP) jet application on the wettability and contact angle (CA) of collagen membrane by tensiometer. Four collagen membrane specimens were prepared and cut with area of 5x5 mm. Plasma jet (kinpen 09) was used in this study. The plasma stream had a length of 11 mm. The distance between nozzle and membrane was approximately 5 mm. Argon gas was used as carrier gas at a flow of 5l/min at 2.5 bar pressure. Roughly 15 mm2 of membrane surface was treated for 30 second, 60 second and 120 second with plasma jet. Tear tests (tensiometer) give a better comparison among different materials as they provide information on the energy or force required to propagate a tear through the material. The test was initiated with a 7 mm long central cut. Tear propagation was monitored as a function of the vertical displacement at the constant rate of 1 mm/min, up to a maximum displacement of 10 mm. According to results of this study, a remarkable reduction in CA was observed in all groups and it can be assumed that NTAP application improve the wettability over previous collagen membranes which is an important benefit because of the porous structure of membrane support cell attachment and proliferation.
Dr. B. R. Ambedkar National Institute of Technology, India
Time : 17:00-17:20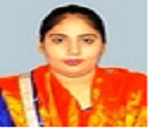 Biography:
Gurpreet Kaur has completed her PhD in Physics at Indian Institute of Technology, Roorkee, India in 2016. She has been working as an Assistant Professor in Department of Physics at Dr. B. R. Ambedkar National Institute of Technology, Jalandhar since 2016. Her current research area of interest is "Synthesis of nanomaterials for optical device applications".
Abstract:
Cuprous oxide, (Cu2O) is a promising p-type semiconductor, finds applicability in a wide range of photo conversion devices. Pulsed laser deposition technique is employed to grow doped Cu2O thin films. Doping mechanism of silver (Ag), aluminium (Al) and (Ag+Al) in Cu2O thin films is illustrated in this report. The Al, Ag doped and (Al+Ag) co-doped Cu2O targets are prepared by the solid state reaction method by mixing Cu2O powder with Al2O3 and Ag2O, powders respectively, in stoichiometric ratios. The doping profile of both Al and Ag in Cu2O is kept 5%. For co-doped, it is 2.5% Al and 2.5% Ag in Cu2O. An Nd:YAG laser operating at wavelength 355 nm and energy 100 mJ/pulse is used to ablate the targets of (Cu2O:Al), (Cu2O:Ag) and (Cu2O:Al:Ag). X-ray diffraction analysis depicts the polycrystalline nature of the films, with a cubic crystal structure and having small crystallite size. UV-visible optical transmittance versus wavelength spectrum of these films describes low transmission i.e. 10-20%, due to the large absorption coefficient (α) for Cu2O material. The large values of absorption coefficient enable the photovoltaic and optical applications of the Cu2O films. The energy band gap of the films is determined using the Tauc's plot relation, shown in figure 1. The optical band gap is increased with doping and it varies in the range of 2.65−2.84 eV. The increased band gap of doped thin films is attributed to the substitution of Al and Ag ions for the oxygen ions. Due to this substitution, width of the valence band is reduced to enlarge the band gap. Room temperature current voltage (I-V) plot indicates low resistivity (ρ~10-2 Ω-cm) of the films. The obtained results are of high relevance and indicate potential applications of the grown thin films in devices such as solar cells, photo detectors and optical sources.
National Sun Yat-Sen University, Taiwan
Time : 17:20-17:35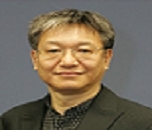 Biography:
Peng-Sheng Wei completed his PhD in Mechanical Engineering department at University of California, Davis, in 1984. He has been a Professor in Department of Mechanical and Electro-Mechanical Engineering of National Sun Yat-Sen University, Kaohsiung, Taiwan, since 1989. He has contributed to advancing the understanding of and to the applications of electron and laser beam, plasma, and resistance welding through theoretical analyses coupled with verification experiments. He has published more than 80 journal papers and given keynote or invited speeches in international conferences more than 70 times. He was a Fellow of American Welding Society (AWS) in 2007 and a Fellow of American Society of Mechanical Engineers (ASME) in 2000. He has been the Xi-Wan Chair Professor at National Sun Yat-sen University (NSYSU) since 2009.
Abstract:
This study numerically investigates transport processes during the melting of an array of nanoparticles on a surface subject to an electromagnetic wave or laser beam in a transverse magnetic (TM) mode. The TM mode represents magnetic field to be perpendicular to the incident plane of electrical field. A systematical investigation of heating and melting of an array of nanoparticles on a surface is essentially required to understand 3-D printing and different types of plasma processing and nanotechnology. The results show that electromagnetic wave propagating along the boundary between two media leads to a distributed heat input and magnetic force on the surface. Fluid flow and heat transfer associated with surface deformation result in complicated transport phenomena between nanoparticles, especially for different frequencies and radii of incident electromagnetic wave.
Centro de Investigaciones en Óptica, Mexico
Time : 17:35-17:50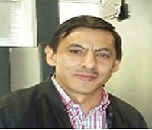 Biography:
Norberto Arzate has been involved in theoretical studies of the linear and nonlinear optical response of surfaces and nanostructures. In particular, he has performed numerical calculations of spectra of dielectric function, second order nonlinear susceptibilities. Besides, he has applied the optical techniques of reflectance anisotropy and second harmonic generation in order to study surfaces. Recently, he has been interested in coherent control phenomena such as optical spin and current injection in surfaces and atomic monolayers .
Abstract:
Statement of the Problem: Two-dimensional materials have recently attracted great attention from the scientific community due to their interesting and quiet different properties from their bulk counterparts. For instance, the band gap value depends on the number of atomic monolayers that the material has. In addition, some materials might have spin-polarized states, which is favorable for studies of spintronics. Here, we have studied theoretically the phenomenon of optical spin injection which is generated when incident circularly-polarized light creates spin-polarized electrons into the conduction bands of the atomic system. We analyze the respective one-photon optical spin injection spectra some 2D systems. In particular, we discuss corresponding results for the atomic transition-metal dichalcogenide monolayers of molybdenum disulfide MoS2.
Methodology & Theoretical Orientation: We present calculations for spectra of the degree of spin polarization that is calculated in a full-band structure scheme. In order to obtain wave functions and eigenvalues of the quantum mechanical system, we have employed density functional theory. In order to correct the band gap energy, the quasiparticle GW approximation is applied.
Findings: It has been obtain the maximum value of 1 for the absolute value of the degree of spin polarization of the electrons for the one monolayer structure at the K valley.
Conclusion & Significance: It is possible to inject spin-polarized electrons to the conduction bands of atomic semiconducting monolayers by the incidence of circularly polarized light. This effect might be useful for the coherent control of the spin of the electron in spintronic devices.