Day 1 :
Keynote Forum
Chief Research Scientist and Director, DST-CSIR National Centre for Nanostructured Materials, South Africa
Time : 10:00-10:30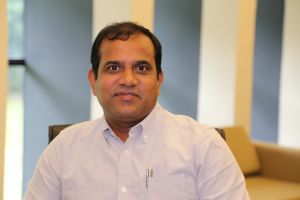 Biography:
Suprakas Sinha Ray was born in 1973 in India and completed his PhD studies at the University of Calcutta in 2001, and then postdoctoral fellow at ToyotarnTechnological Institute and Laval University studying the structure-property relationship in nanoclay-containing polymer nanocomposites. He started working onrnfundamental understanding to real applications of polymer-based nanostructured materials when he joined the CSIR as a group leader. These studies advancedrnand broadened when he appointed as a chief researcher and director of the DST-CSIR National Centre for Nanostructured Materials and growing to the presentrntime with postdoctoral fellows, students, collaborators and industrial partners worldwide. Currently, more than 80 researchers, engineers and technologists arernworking with him. Prof. Ray is one of the most active and highly cited authors (his articles have been cited more than 14700 times, google scholar, h factor 44),rnin the field of polymer nanocomposite materials and his work has been featured on various international journal cover pages on 14 different occasions. He is thernauthor of 2 books, co-author of 3 edited books, 15 book chapters on various aspects of polymer-based nano-structured materials & their applications, and authorrnand co-author of 250 articles. He also has 4 patents and 7 new demonstrated technologies shared with colleagues, collaborators and industrial partners. His teamrnalso commercialized 16 different grades of polylactide nanocomposites.
Abstract:
Modern technology continuously requires new, enhanced materials with special combinations of properties. In recentrnyears, researchers have managed to develop new materials at the nanoscale with excellent combinations of properties.rnThese new materials, called nanocomposites, possess enhanced properties and promise to soon replace classical materials usedrnin industry. With nanoclay minerals, it becomes possible to create plastics, for instance, that are not only stronger and lighter,rnbut are also scratch, ultraviolet and fire-resistant. This enables various advanced modern uses for plastics, such as lighter,rnstronger plastic parts for motor vehicles. Another application is using enhanced plastics for meat and other food packaging.rnTraditionally packaging plastic is made up of up to nine thin layers. With nanocomposite plastics, only three layers are neededrnwhich dramatically reduces the amount of plastic required. During nanocomposite formulation, nano-level dispersion is thernmost important characteristic to achieve, in order to have increased surface area for polymer-filler interaction, improvedrnco-operative phenomena among dispersed particles, and/or a higher degree of confinement effects. However, the primaryrnchallenge is to find the right chemistry to provide the best favorable driving force to disperse fillers at a nano-level. What thisrnmeans is that one needs to determine the right temperature, pressure and environmental conditions needed to successfully andrnoptimally allow a nanoclay to mix with a polymer. The DST-CSIR Nanocentre's work in nanoclay minerals focuses primarilyrnon South African nanoclay mineral-enhanced plastics and efforts to create awareness of polymer nanocomposites (PNCs) inrnindustry as well as the development of products that will benefit the industry. The DST-CSIR Nanocentre is also putting furtherrnresearch efforts into processing and characterization techniques, properties and applications, and key research challenges andrnfuture outlooks in the development of South African nanoclay minerals-based multifunctional PNCs.
Keynote Forum
UNESCO UNISA Africa Chair in Nanosciences & Nanotechnology
Time : 9:45 - 10:15

Biography:
Prof Dr M Maaza, holds an UG/PG degrees in Solid State Physics & Photonics from University of Oran-Algeria & Paris VI-France University Marie Curie. He holds a PhD in Quantum Neutron Optics, from the University of Paris VI-France. He has about 2-decades of experience in nano-sciences with a focus on nano-photonics applications. His interests include investigation of surface-interface phenomena, low dimensional systems and nano-materials using optical based spectroscopies & large facilities such as synchrotrons and neutron research reactors while in France, Austria, Russia & Germany mainly. Prof. Maaza has produced numerous formal scientific publications mentored several postgraduates. He has co-initiated the South African National Laser Centre (NLC) & was instrumental in initiating & implementing the African Laser Centre(ALC). Likewise, he has initiated the South African Nanotechnology Initiative (SANi) as well as the Nanosciences African Network (NANOAFNET) supported by the ICTP & UNESCO, IAEA and for which he is the chairman elect. Currently, he is the UNESCO-UNISA Africa Chair in Nanosciences & Nanotechnology. Prof. M. Maaza is a fellow of the African Academy of Science, fellow of the Royal Society of Chemistry-London, fellow of the Islamic Academy of Science as well as the New York academy of Science. Being a joint staff of UNISA & NRF, he is in charge of the Africa & International Relations desk of iThemba LABS-National Research Foundation. Prof. M. Maaza seats in several national and international commissions including the UNESCO-l'Oreal international award jury, the AU Obasanjo Africa award as well as the AU Nkwame Nkrumah African award in STI.
Abstract:
Nano-structured materials for energy efficiency & MINERAL BENEFICIATION WITHIN THE SOUTH AFRICAN LANDSCAPErn
Keynote Forum
Professor, University of Science and Technology.
Time : 10:50

Biography:
Professor Vladimir G. Chigrinov is Professor of Hong Kong University of Science and Technology since 1999. He is an Expert in Flat Panel Technology in Russia, recognized by the World Technology Evaluation Centre, 1994, and SID Fellow since 2008. He is an author of 6 books, 25 reviews and book chapters, about 245 journal papers, more than 575 Conference presentations, and 102 patents and patent applications including 20 US patents in the field of liquid crystals since 1974. He got Excellent Research Award of HKUST School of Engineering in 2012.
Abstract:
Photoalignment possesses obvious advantages in comparison with the usually "rubbing" treatment of the substrates of liquid crystal display (LCD) cells [1]. The liquid crystal photoalignment is nano-technology, as the thickness of the alignment layer is about 2-15 nm. The photoalignment materials can be very useful for the new generation of the liquid crystals displays and photonics devices [2]:rnPhotoalignment possesses obvious advantages in comparison with the usually "rubbing" treatment of the substrates of liquid crystal display (LCD) cells. Possible benefits for using this technique include:rn(i) Potential increase of manufacturing yield, especially in LCDs with active matrix addressing, where fine tiny pixels of a high resolution LCD screen are driven by thin film transistors on a silicone substrate;rn(ii) New advanced applications of LC in fiber communications, optical data processing, holography and other fields, where the traditional rubbing LC alignment is not possible due to the sophisticated geometry of LC cell and/or high spatial resolution of the processing system;rn(iii) Ability for efficient LC alignment on curved and flexible substrates;rn(iv) Manufacturing of new optical elements for LC technology, such as patterned polarizers and phase retarders, high resolution optical sensors, tunable optical filters, polarization non-sensitive optical lenses, with voltage controllable focal distance, patterned nano-rods structures etc.rnNanolayer photoalignment can be very useful for the new generation of the liquid crystals devices as well as in new photovoltaic, optoelectronic and photonic devices based on highly ordered thin organic layers. Examples of such applications are light emitted diodes (OLED), solar cells, optical data storage, nano-rods and holographic memory devices. The novel and highly ordered layer structures of organic molecules may exhibit certain physical properties, which are similar to the aligned LC layers.rn The physical mechanisms and characterization of the photoaligning technique, as well as the application for liquid crystal devices, including displays and photonic devices will be reviewed. rn
Track 1: Nanomaterials Particles and Applications, Track 4: Nano Electronics, Track 5: Molecular Nanotechnology, Track 9: Reinforcements in Nanotechnology
Location: DoubleTree by Hilton Hotel Cape Town